ZYD Double Stage Vacuum Insulation Oil Purifier
"Always committed to serve you with our best service and innovativeness"
ZYD Series Double-Stage Vacuum Insulation Oil Purifier can quickly and effectively remove moisture, gas (Hydrogen, acetylene, methane, etc.) and impurities from the insulation oil, to improve the oil dielectric performance. The filtered oil can effectively ensure the power equipment run safely and normally. ZYD Double-stage vacuum oil purifier is widely used in power supply, power generation, power transmission and transformation, power equipment manufacturing, power engineering, electrical equipment maintenance, power testing, electrical research and other industries. It is especially suitable for the filtration of high-grade transformer oil and ultra-high transformer oil, and can be applied to online oil filtering operations at the power substation (like 110KV / 220KV / 500KV). Meanwhile, ZYD oil purifier has the functions of vacuum drying, vacuum oil injection, and hot oil circulation. It can also be used as a separate vacuum pumping unit to evacuate transformers and power equipment.
Optional PLC automatic control
Imported parts (optional imported brand vacuum pumps, motor oil pumps, filter elements, electrical components, instruments)
Flow meter (optional)
Configure the frequency conversion system to realize the flow selection when filtering or filling (optional)
On-line micro-water meter (optional)
Pirani Digital Vacuum Gauge (optional)
Fully enclosed metal door design, rainproof and dustproof (optional)

The vacuum system uses the roots pump as the main pump and the rotary vane vacuum pump as the primary pump. It has fast start-up, large pumping speed, stable performance, and high ultimate vacuum of less than 5Pa.

Double horizontal vacuum separators, combined with Duplex-Stereo film evaporation technology, unique efficient dewatering and degassing components. The high-efficiency oil atomization device greatly improves the oil vacuum separation space and separation time, ensuring one-time dehydration and degassing effects.

Strong ability to remove impurities: ultra-large area cylindrical precision filter element, with high filtration accuracy, easy installation and replacement. The multi-stage filtration system gradually encrypts and removes fine particles in the oil, and the magnetic pre-filter at the oil suction port adsorbs the iron-containing fine impurities. The filter is equipped with a filter pollution alarm protection device.

Automatic control: The whole system adopts automatic heating and constant temperature control, automatic liquid level control for oil inlet and outlet, automatic pressure protection, automatic oil foam sensor etc. to realize unattended, safe and stable working.

Safety interlock protection: oil pump, vacuum pump, heater interlock protection, motor overload protection, pipeline oil over-pressure protection,filter pollution alarm protection.

Humanized instructions: automatic design, and there are instructions such as oil temperature gauge, pressure gauge, vacuum gauge, filter pollution alarm, operating status and so on.

Good comprehensive performance: This machine has the advantages of low noise, easy operation, long maintenance interval, low energy consumption, low operating cost, high oil filtration efficiency, long lifetime, etc.

It can be used together with the insulation oil regeneration device, which has the effect of decoloring, deacidification, deoxidation and removing free carbon and other harmful substances from the oil.

Low-load heating: Adopt advanced internal and external double-tube heat radiation indirect heating technology. The inner tube of the heater generates heat to heat the air. The outer tube of the heat-radiation heater uniformly heats the oil. The heating surface load does not exceed 1.1W / cm2, avoiding oil aging, cracking, generating harmful gases. S-type heating oil flowing design ensures heating without dead oil zone, keeping oil linear heating and uniform heating.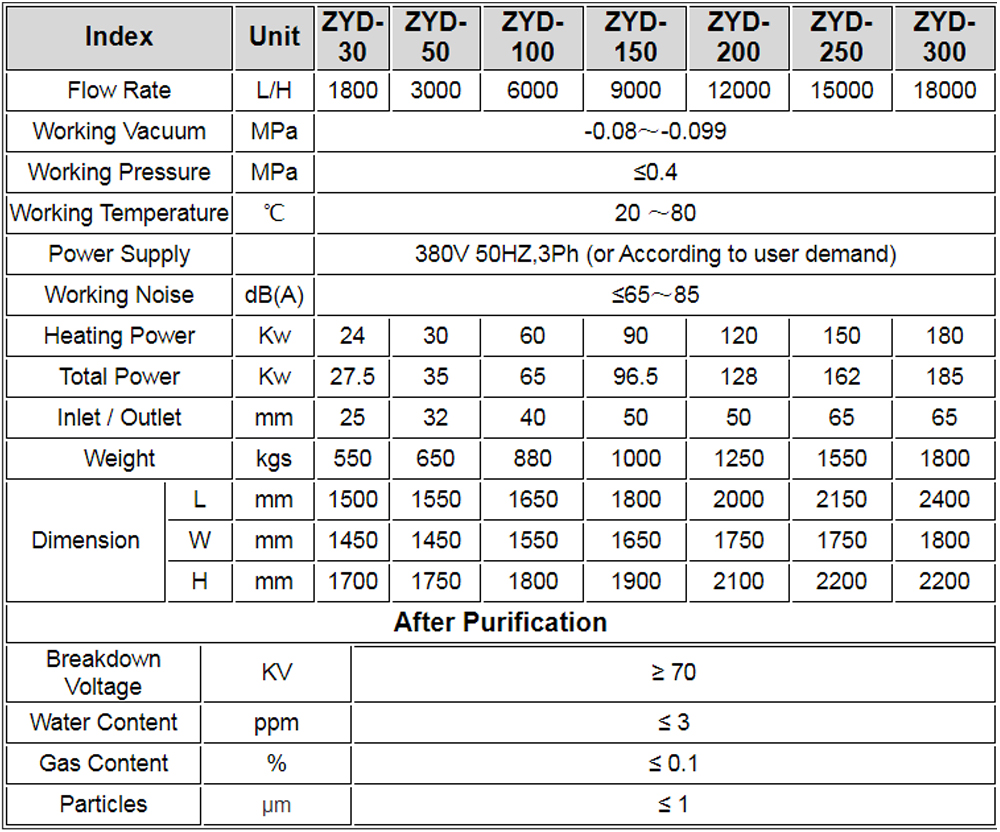 We are productively encountered closely to the Power and Generation, Transmission, Distribution, and Hydro-Power Station Project.